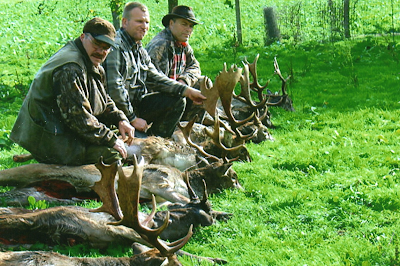 From driven game to deer stalking we can provide a comprehensive hunting service for international guests.
Tell us your requirements and we will take all the stress out of organising your visit to Great Britain. We can organise your accommodation, Firearms Permits or provision of firearms and ammunition for the duration of your visit.
We have access to hunting areas all over Great Britain and can provide driven game, walked up days, Duck flights, Wood Pigeons over decoys, roost shoots, Red, Sika, Fallow, Roe, Muntjac and Chinese Water deer, Wild Boar, Rabbit days and Fox shooting at night. Other species such as Wild Goat are available by special request.
Visitors Permits
How can a visitor to Great Britain possess firearms or shot guns?
Visitors may bring firearms or shotguns into Great Britain by applying for a visitors permit. Separate permits are required for firearms or shotguns. In both cases the holder of a visitors permit may bring with them any firearm, shotgun or ammunition allowed by British law (section 1 of the Firearms Act 1968).
There are some differences between Firearms and Shotgun permits. Visitors may purchase, acquire or possess ammunition while visiting Great Britain, but can not purchase firearms. The holder of a shotgun permit may may possess, purchase or acquire shot guns and is exempt from the requirement to produce a shot gun certificate when purchasing cartridges.
Both permits are valid for a period of up to 12 months and must show the full details of weapons covered and in the case of a firearms permit, show details of the quantity of ammunition to be purchased/acquired and held. Similarly, territorial and other conditions may be imposed on a firearms permit.
Separate permits for each police area are not required as both permits will cover the visitor throughout Great Britain.
How do I apply for a visitors permit?
We can act as a sponsor for your visitor's firearm or shot gun permit and will complete and submit the application. Visitors from other EU states, must provide a visitors EFP (European Firearms Pass) or a copy.
Group applications can be made for parties up to 20 people provided they are all shooting at the same location and at the same time, or are participating in the same event or competition. Applications should be made well in advance of your visit, at least 6 weeks prior to your arrival in Great Britain. Each permit will incur an application fee, and must be paid prior to submitting the application.